Photo by Lane Pelovsky Courtesy of MeetMpls
Private & Public Garden Tours - 8/4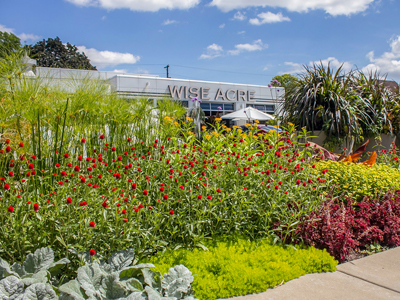 Tangletown Gardens & Wise Acre Eatery
Tangletown Garden Center is an urban oasis offering an absolute garden experience with a commitment to creative design and sustainable practices.They grow a plethora of high-quality annuals, perennials and houseplants at their 140-acre farm located just outside the metro area in Plato, MN.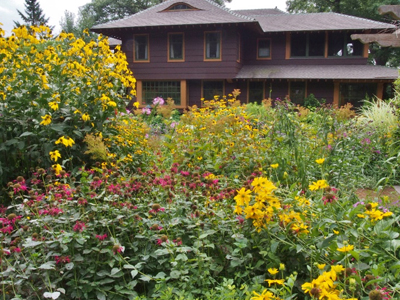 Lakeside Perennials & Prairie Garden - Deephaven
In grand fashion, a giant pergola highlights an extensive collection of perennials in this two-acre garden on the shores of Lake Minnetonka. The property also features the following; vegetable garden, rain garden, shade garden and a hillside prairie garden.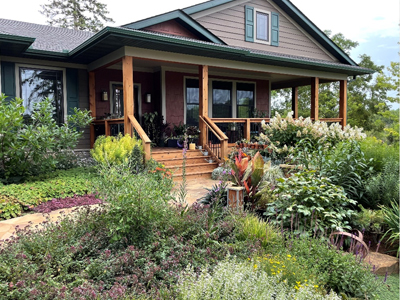 Rare Perennials Garden - Waconia
Two near Civil War era oak trees anchor this relatively new garden of both well-known and unusual plants, featuring both sunny and shady environs, rain garden, rock garden, 150+ containers filled with bulbs, annuals, tender plants.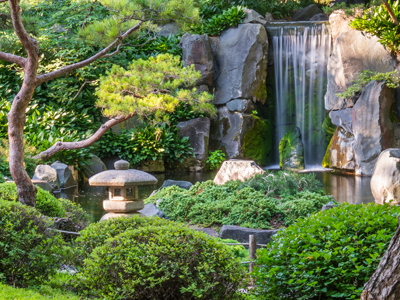 Minnesota Landscape Arboretum - The Arb
This public garden draws more than 500,000 paid visitors a year with 28 specialty gardens, 44 plant collections, natural areas and more than 150 permanent works of art, cared for by 200 staff and nearly 1,000 volunteers.
Special features to look for include:
Annual Garden:

This spectacular display (pictured) showcases the colorful power of annuals, primarily grown from seeds and plugs in Arboretum greenhouses and planted immediately after a display of 40,000 tulips fades by June 1.

Japanese Garden:

The "Seisui Tei" or Garden of Pure Water reflects a style of the Edo Period (1603-1869). Designed by landscape architect Koichi Kawana in 1985, it includes granite snow lanterns, a garden house, a water basin, entry gates and more than 50 different trees, shrubs and groundcovers.

Sensory Garden:

This model display, designed for the Nature-Based Therapeutics program at the Arboretum, shows accessible containers and designs suitable for a variety of gardening styles and abilities.

Home Demonstration Gardens:

Explore a variety of small-space gardens that can easily be replicated by the backyard gardener, including herb gardens, patio pots, vegetable plantings, fruit displays (including espaliers), cutting gardens with flowers, rock gardens and even a weed-identification exhibit.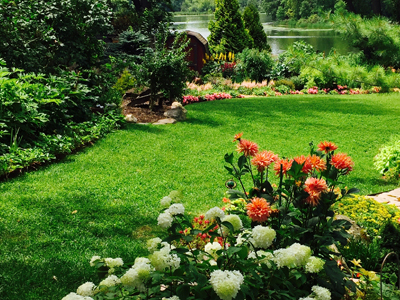 Sustainable Permaculture Garden - Plymouth
Tasty edibles, pollinator-friendly "nativars" (native cultivars) and triple-duty shrubs intermingle in this 1-acre waterfront garden with an emphasis on sustainability and permaculture for the home gardener. A charming eco-friendly home anchors the site, which leads down to a small lake.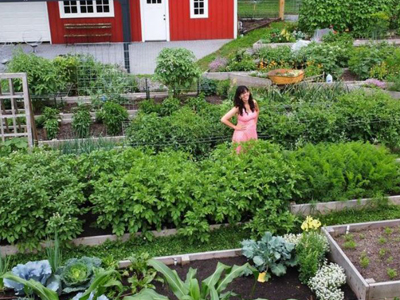 Zone-pushing Succession Garden - Orono
Get ready to immerse yourself in a beautifully designed and planted food garden with angles everywhere you look. Working with the site, the unique layout highlights the enchanting red barn from every angle. Each plant is grown from seed—easily over 200 varieties of food and flowers are carefully selected and cultivated for a variety of purposes, including fresh eating, long-term storage, and processing.
Interested in learning more about each of the gardens? Download the full description of the gardens, with photos and what makes them unique. Garden Tours PDF (40MB) View this on your mobile device to reference each garden during the tours.
Stay an extra day and enjoy more spectacular Minneapolis gardens and private tours. Registration to attend the option tour is $75 and will include transportation and lunch. Space is limited so click the register now button.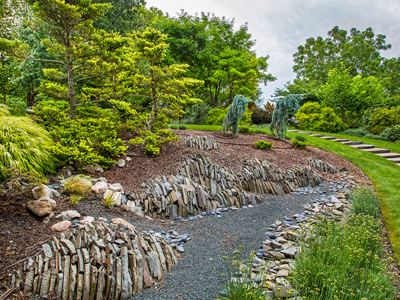 Modern Mix - St. Paul
A modern mix garden uses foliage, texture, and shape for a bold style that peacefully flows around the house. The garden design relies less on blossoms and more on captivating the eye with foliage color, texture, contrast and shape. Use of tropicals and Interesting combinations of trees and shrubs surprise and add some punctuation as your eye moves through the landscape.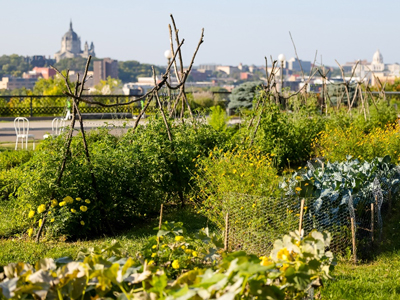 Capitol View Communal Garden in St. Paul
Work as you are able; harvest what you need. See what a neighborhood garden can accomplish with a communal mindset. The property also features the following; perennial garden, vegetable beds, accessible medicinal herb garden, 12 orchard trees and eehives, new this year!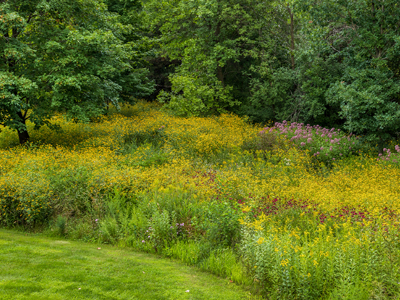 Native Prairie Restoration by Kelly Norris - St. Paul
Bob McEnaney's home is a roughly 10-acre property nestled in a busy suburb of St. Paul, Minnesota. The family home was built in the early 1990s with a large lawn for their young kids to play in as they grew up. Since then, a pool was installed to create a backyard oasis in the woods.

In 2018, Bob worked with his son Ryan McEnaney (from Bailey Nurseries) and Kelly Norris to bring some of the native prairie back to the landscape with a roughly 3-acre restoration project anchored by centry-old white oaks. Kelly designed a seed mix to create a lush landscape, installed and maintained by Minnesota Native Landscapes, that would initially hold back invasive buckthorn that had been removed and ultimately create a sustainable, beautiful, long-lasting prairie.

In addition to the herbaceous seed and plug mix, Kelly and Ryan worked on several high-visibility areas with some added structure from Bailey's woody shrubs and trees, highlighting nativars for the Minnesota garden. The result is a stunning four-season landscape that is especially vibrant in late summer and fall with the varied textures and colors of Kelly's design.

This garden is a must-see for large scale restoration and cooperative design between multiple parties. It's not only visually stunning, but a beautiful look at ecological design in a suburban setting.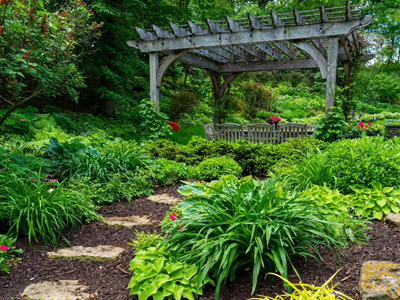 Woodland & Hillside Garden - North Oaks
Want to know how to conquer a wooded property, a steep hillside and keep invasives at bay? Explore this colorful 2.5-acre sanctuary tucked among the trees, with woody shrubs, perennials, annuals and tender plants. The property also features the following; hillside garden, potager & herb gardens, dahlia beds and Irish favorites.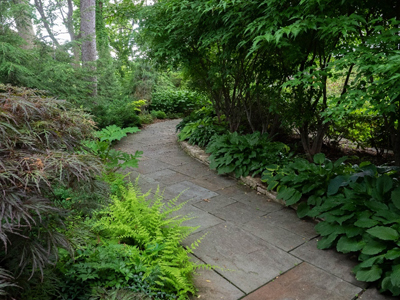 Historic Lakeside Gem Garden - Minneapolis
Just a stone's throw from downtown Minneapolis, a hidden garden overlooking Lake of the Isles is a spectacular green oasis surrounding one of the oldest Victorian homes on the lake. The property features the following; shady forest entry garden, perennial circle, compact veggie garden, hillside plantings with lake view.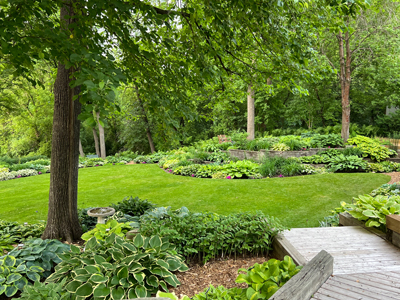 'Hosta-holics' Collection & Shade Garden - Minnetonka
Hosta lovers will certainly get their fix at this sprawling shade garden featuring 875 varieties of this popular plant. Many paths wind through the garden for easy access.
The property also features the following; Perennial and annual companion plants, woodland garden, and native prairie plants & annuals garden.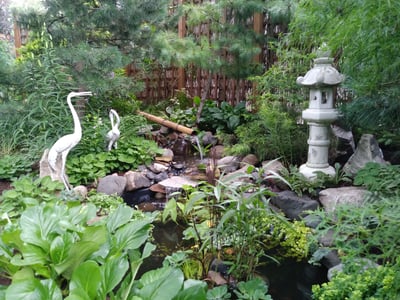 Urban Water Garden - Maplewood
Inviting seating areas feature crystal chandeliers hanging from mature trees, a traditional tiered fountain spilling over into a koi pond, and stone walkways drawing visitors through the garden areas and water features.
Interested in learning more about each of the gardens on the optional tour? Download the full description of the gardens, with photos and what makes them unique. Optional Tours PDF (17MB) View this on your mobile device to reference each garden during the tours.