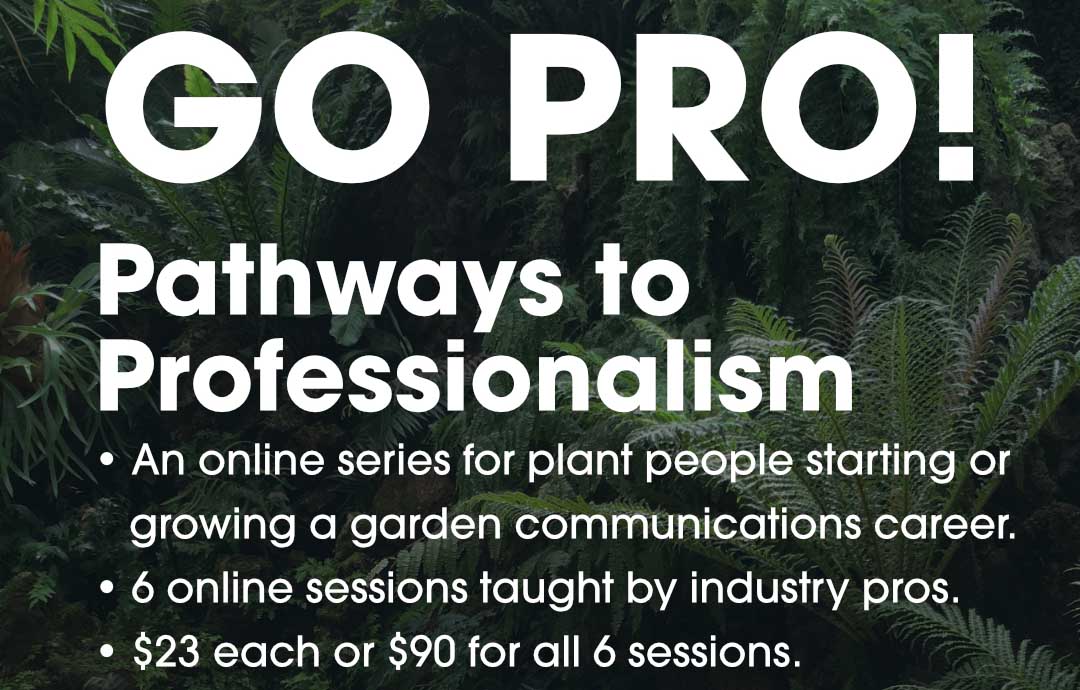 Jumpstart the new year by advancing your communication skills and income in the Green Industry. Pathways to Professionalism, is a series of classes dedicated to plant geeks, master gardeners, garden retailers, social media content creators and influencers, and other passionate plant people, who want to start or expand their knowledge while generating income in garden communications.
Courses take place between January 17 to February 2, 2023
Join for the live sessions at 7PM EST and get the access to the recorded session through 4/30/23
Register for all 6 classes for $90 - Best Value
Pathways to Professionalism Sessions
Getting Paid to Write About Plants presented by Kim Toscano - January 17, 2023
Turn your knowledge and passion for plants into a career by becoming a professional garden writer. From blogging to marketing materials, the horticulture industry and its consumers are hungry for content. Learn how to transition from hobbyist to freelancer, set professional goals, find outlets for your work, generate more writing jobs, and put a price tag on your writing.
How The Green Industry Works - Diane Blazek and Maria Zampini - January 19, 2023
Join green industry veterans Maria Zampini and Diane Blazek as they explain and illustrate the unique and interesting business side of horticulture. How do breeders create the new plants we love? How does a plant get from A to Z? Who are the major breeding and distribution companies? How and where can you connect with them? Learn all this and more to grow your profession and set yourself apart from those who don't attend from these two industry powerhouses.

Diane Blazek: Growing up in Missouri on a small family farm led Diane to enter the horticulture industry in 1993. Since then she has been immersed in the many aspects of commercial and consumer horticulture, first at Ball Publishing and now at All-America Selections and National Garden Bureau.
Maria Zampini: Maria's first memory of working in the family business is putting fertilizer pills in pots. Now, Maria represents LCN Selections and other new plant varieties, researching and developing the plants and introducing them to the market. Her company, UpShoot Marketing LLC has a broad reach marketing many garden products to both the commercial and consumer markets.
Getting Paid for Your Photography – Mark Turner - January 24, 2023
Making a living from garden photography in today's world is challenging, even as more photography is used than ever before. Attendees will learn how the foundation of the business is subject-matter knowledge and technical mastery. They will hear why organization is key, and will discover information about marketing themselves to the right audience.
Creating and Selling Online Courses - Noelle Johnson - January 26, 2023
Maximize the reach of your gardening expertise by creating an online class. The convenience and accessibility of digital learning is expanding exponentially and it's a great opportunity to share your knowledge with an expanded audience base. In this webinar, you'll learn how to create an online course and methods for marketing the class so you'll help more people in the garden while increasing your revenue.
Getting Paid to Speak About Plants - C.L. Fornari - January 31, 2023
Learn how to build a speaking business by improving your skills on the platform, marketing yourself to a range of audiences, and using your talks to promote other aspects of what you do. Hear about the newest trend in virtual speaking, and how opportunities abound for presenting to non-gardening groups. Discover what you need to do in order to have speaking requests regularly hit your inbox.
Getting a Garden/Plant Book Published Jessica Walliser - Feb 2, 2023
In this program, Jessica Walliser will provide insights into the current state of the publishing industry and how to choose the best publisher for your book. Learn what publishers look for in perspective authors and book topics, how books are chosen for publication, and why author platforms are more important than ever. You'll also glean useful tips for working with a publisher after the contract is signed to make it a successful partnership for both parties.
Meet the Pathways to Professionalism Speakers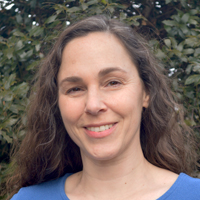 Kim Toscano
Kim Toscano is a freelance writer and gardening expert working in horticultural communications for over twenty years. Formally trained in horticulture, environmental science, and entomology, she hosted a weekly PBS television program for seven years and writes regularly for Fine Gardening, Real Simple, and Southern Living. Kim has also worked with green industry clients to produce marketing content, press releases, brochures, education materials, and more.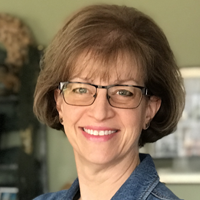 Diane Blazek
Diane Blazek has been deeply (and happily!) immersed in gardening from an early age. Growing up on a family farm in north central Missouri, she helped grow and harvest a wide range of vegetables, herbs, and flowers. During her 15 years with Ball Publishing, Diane played an important role in bringing the commercial and consumer areas of horticulture closer together. Since 2010, Diane has been the Executive Director of two leading horticulture non-profits: All-America Selections and National Garden Bureau. Under her guidance, both organizations have experienced an exciting and continuing period of growth and influence both inside and outside the industry. Innovative ideas and progressive programs for all groups, including consumers, garden communicators, public gardens, and a full range of growers and retailers have benefited all segments of the horticulture industry.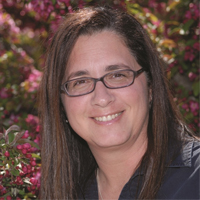 Maria Zampini
Maria is a 4th generation nurseryman and proud of it! After graduating from Penn State with a BS in Horticulture, she ran the family's 1000 acre wholesale nursery, destination attraction garden center and new plant research and development division. She took a new path in 2009 partnering with her father to form UpShoot LLC, a boutique horticultural marketing firm focusing on sales, marketing and licensing of new plant introductions and gardening related products. In 2019 Maria partnered with Spring Meadow Nursery to develop the Proven Winners® ColorChoice® Flowering Trees program. Maria is a freelance writer for both green industry trade journals and consumer gardening magazines. She is co-author of the ASHS award winning book Garden-pedia: An A-Z Guide to Gardening Terms. Maria has spoken nationally and internationally on a variety of gardening related topics. Maria was the 1st female President of the Ohio Nursery & Landscape Association and International Ornamental Crabapple Society. Maria serves on the Advisory Board for the Painesville, Ohio Salvation Army, and is the Director of Marketing for both the Fairport Harbor Arts and Culture Alliance and the Village of Fairport Tree Commission in her local Fairport Harbor, Ohio community. Maria currently serves as the President of GardenComm: Garden Communicator's International and was recently named to the Horticultural Research Institute Board of Trustees.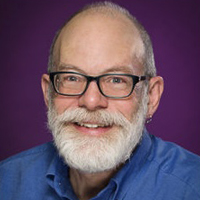 Mark Turner
Mark Turner began photographing gardens and marketing his work to book and magazine publishers in the mid-1990s. He's the photographer of two well-received regional native plant field guides with Timber Press, with a new book about weeds due in early 2024. Today, his Bellingham, Washington photography business is focused more on local portrait and commercial clients as a result of major changes in the publishing industry.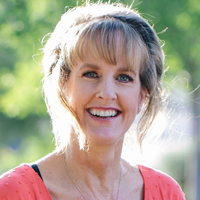 Noelle Johnson
Noelle Johnson is a horticulturist, landscape consultant, and digital course creator. Popularly known as 'AZ Plant Lady', Noelle teaches people how to create, grow, and maintain beautiful gardens in a hot, dry climate through in-person classes, consultations, and her popular online course which has enjoyed enrollment of over 800 students. She is the author of the upcoming book, Dry Climate Gardening: Growing beautiful, sustainable gardens in low-water conditions.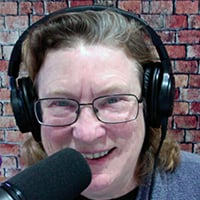 C.L. Fornari
C.L. Fornari has been speaking about plants and gardens for over 25 years. She presents programs in person nationwide, and virtually throughout the world. As a garden communicator, C.L. keeps several balls in the air but finds that speaking is one of her most reliable income generators.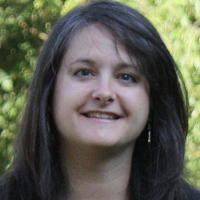 Jessica Walliser
Jessica Walliser is the Editorial Director for Gardening with Cool Springs Press, an imprint of The Quarto Group. Quarto is a leading global publisher of illustrated nonfiction books with 36 imprints under its umbrella. Jessica is also a horticulturist, the author of seven gardening books, and co-founder of the popular website SavvyGardening.com.