Meet before Cultivate in Columbus, OH | July 15-16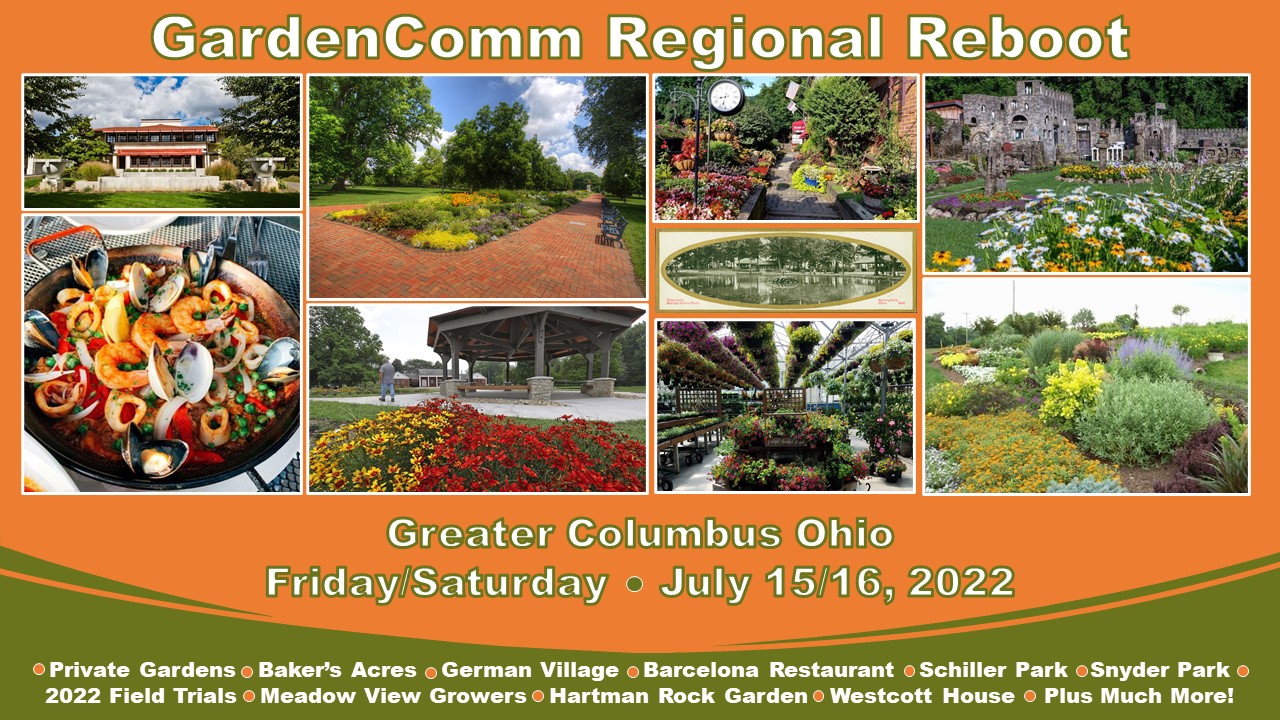 Register and Pay Now!
Choose from 2 Day or 1 Day Tour
On the payment window, ADD additional seats before check out
Print or save the receipt for your records
Cancellation Policy: Any cancellations after July 8, 2022 cannot be refunded. Contact info@gardencomm.org to cancel your reservation.
Friday Schedule and Sites:
8:00 AM: Registration, Coffee, Nosh and Network
8:30 AM: Private Garden! Tour the private gardens of designers Nick and Allison McCullough, co-authors of American Roots: Lessons and Inspiration from Designers Reimagining Our Home Gardens. (Timber Press, Fall 2022). Their garden was featured in Better Homes & Gardens (2020) and was this spring's cover story for Midwest Living (March/April 2022). The McCullough's will greet us and give a brief overview of their gardens.
11:00 AM: Baker's Acres Greenhouse and Garden Center - Baker's Acres love people, plants and having fun! Being unabashed plant nerds, the family know what joy and delight a new plant brings…especially if it lives. By searching the world over, by rummaging through countless greenhouses and garden centers, and by swapping with our many generous friends in the industry, they have amassed a huge variety of plants that should satisfy most horticultural fanatics as well as the rest of the world. Time here will include tours, education stations, networking opportunities. Purchase lunch at an onsite food truck of pick it up on the drive to the next site. Registration will continue at Baker's for those members who want to join the meeting later in the day. Let us know if we are to expect you joining us late.
2:15 PM: Dawes Arboretum By the time The Dawes Arboretum was founded in 1929, over 50,000 trees had been planted and the grounds had doubled in size to 293 acres. Beman and Bertie Dawes created The Arboretum as a private foundation: "To encourage the planting of forest and ornamental trees… to give pleasure to the public and education to the youth."
4:00 PM: Drive back to Columbus! There is time included in the day to return to Columbus, check into your hotel room and relax before continuing the meeting's excitement with the first GardenComm 'Evening Walk, Talk and Dine!'
6:00 PM: German Village, Huntington Garden and Pocket Garden Stroll Wander through brick streets, meet new friends, and explore the historic German Village neighborhood, just south of downtown Columbus. Walking tours will be lead from a meeting point and end at the restaurant of your choice with reserved tables waiting for you to join the party and end the evening with friends.
7:30 PM: Dinner with GardenComm! We make the reservations. You take a seat at a table with friends and order on your own the dinner and drinks that you'll enjoy! This is the celebration we've been waiting to host for the past three years. There will be a range of eateries in the neighborhood to which you can walk.
Saturday Schedule and Sites:
8:00 AM: Registration, Coffee, Nosh and Network
8:30 AM: Snyder Park Gardens and 2022 Trials Join Pam Bennett for a tour of the of the 2022 Cultivar Field Trials at Snyder Park Gardens and Arboretum — a former golf course transformed into a 25-acre garden also including a Victory Garden, early settlers garden and perennial garden. Pam will lead the tour, point out her favorites and share her experiences in trialing herbaceous ornamentals for 27 years. AAS. Box lunch.
10:30 AM: Hartman Rock Garden Ben Hartman drew inspiration from family and friends, as well as from magazines, books, radio, and film. He constructed every object by hand between 1932 and 1944 using concrete, metal, glass, stone, wood and whatever else he could find. This was a deeply personal space, meant to promote his ideals and values to the larger world. Today, the site is owned and maintained by the Friends of the Hartman Rock Garden. Quirky, Unique, and a great photo opportunity. At the end of this tour, box lunches will be available for pickup. A choice of lunch will be made available. Eat here or drive to the next stop.
12:30 PM: The Westcott House The Westcott House is a Frank Lloyd Wright-designed Prairie Style house in Springfield, Ohio. The house was built in 1908 for Mr. Burton J. Westcott, his wife Orpha, and their family. The Westcott property is the only Prairie style house designed by Wright in the state of Ohio. This stop is a timed entry to the house with a docent-lead private tour for registrants to this meeting. Don't miss this remarkable opportunity.
3:00 PM Meadow View Growers - Meadow View Growers is a destination garden center with 30,000 square feet of greenhouses and retail space. They feature rare annuals & perennials, trees, pottery & a gift shop.
4:00 PM Trunk Show and Raffle: A GardenComm Regional Meeting tradition. Join us in the parking lot, open your car trunks and load them with the samples, plants, and raffle winnings. We ask the registrants to bring some garden-related plant, tool, book or accessory to add to the energy of this great goodbye at our first two-day in-person meeting in years.

If you plan on attending the GardenComm super regional in Columbus, Ohio in July, then plan now to attend Cultivate'22 by AmericanHort.

Cultivate'22 is the largest horticulture trade show in North America! It is happening July 16-19, 2022 at the Columbus Convention Center. Thanks to AmericanHort, GardenComm members are eligible to receive the AmericanHort member discount pricing when registering for Cultivate'22. The registration discount code is available to GardenComm members who are current with their 2022 dues. Please complete the form to receive the discount code to use at Cultivate'22 registration.