Meet After PPA in Philadelphia, PA | August 6 & 7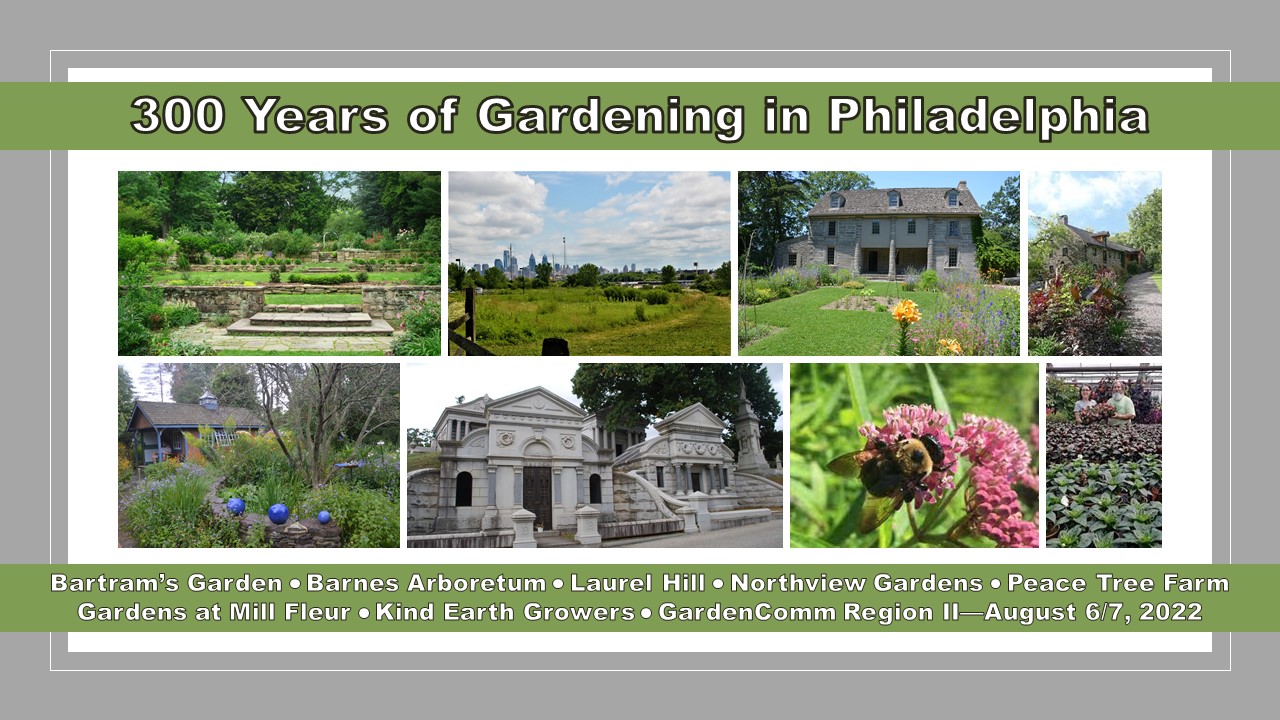 Saturday Schedule and Sites:
8:00 AM: Registration, Coffee, Nosh and Network
Bartram's Garden! This is a 50-acre public garden and National Historic Landmark in Southwest Philadelphia, PA, situated on Lenape territory on the banks of the Tidal Schuylkill River. It is a venue for art, an access to the tidal river and wetlands, an outdoor classroom, and a living laboratory. Founded in 1728 by botanist John Bartram (1699–1777), it is the oldest surviving botanical garden in North America. Bartram's Garden attempts to hold the colonial legacy of the land with a commitment to learn and share the whole truth about the plants of Southwest Philadelphia and the people who grow them. Maitreyi Roy, Executive Director, will welcome us to the grounds and give us an historic overview of the garden. Joel Fry, Curator, will lead us on a tour of the historic house built by John Bartram and his succeeding generations.
11:00 AM: Barnes Arboretum at St. Joseph's University The Barnes Foundation on a property in Merion which already housed a collection of specimen trees that its previous owner, Captain Joseph Lapsley Wilson, had assembled in the 1880s. These trees were the startup of the present Barnes Arboretum Dr. Albert Barnes expressed his passion through art appreciation; his wife Laura expressed hers through the cultivation of beautiful plants and the establishment of the horticulture education program, which remains unique in the U.S. After a welcome in the Library, our educational programming will set off on a guided tour of the legacy plantings around the estate. There will also be an opportunity for those registrants of the meeting to join our tour-in-progress at this location.
2:30 PM: Laurel Hill Cemetery Established in 1836 as the second garden-designed cemetery in the United States, Laurel Hill Cemetery is now the nation's first National Historic Landmark Cemetery. John Jay Smith, the site's founding visionary had planned for Laurel Hill to be a school of instruction in architecture, culture, landscape gardening, arboriculture and botany. By 1844, Smith had planted 2,400 trees on the cemetery's initial 32-acre tract. His horticultural efforts were admired by the leading landscape gardeners of the time. In 1849, Andrew Jackson Downing wrote in The Horticulturist, "Laurel Hill is especially rich in rare trees…It is a better arboretum than can easily be found elsewhere in the country." Join Gregg Tepper, Senior Horticulturist, along with other members of the historic and horticultural staff as we tour the ornamental and monumental design of this pre-eminent space.
4:30 PM: Drive to your hotel! There is time included in the day to return to central location, check into your hotel room and relax before continuing the meeting's excitement with the group dinner reservation
6:00 PM: CinCin Restaurant We make the reservations. You take a seat at a table with friends and order on your own dinner and drinks that you'll enjoy! This is the celebration we've been waiting to host for the past three years. Afterwards, return to your hotel to rest before the final day of garden exploration!
Sunday Schedule and Sites:
8:00 AM: Registration, Coffee, Nosh and Network
8:30 AM: Northview Gardens: A Private Garden Tour Northview Gardens 4½ site was originally part of Wilmer and Anna Atkinson's 1887 100-acre Victorian Model Farm. Some of the Trees planted by Mr. Atkinson (the Founder and Editor of the Farm Journal) remain, including a beautiful 150-year-old Japanese maple. The current property includes the original 1887 farmhouse and carriage house. Thousands of visitors from all over the country have come to visit and enjoy Northview's fabulous gardens. There a thirty-one distinct areas, each with its own theme. Created by Jenny Rose Carey to appeal to all five senses and with interest for every season of the year, Northview Gardens has been designed to educate visitors about different plants, planting techniques, and garden features.
10:45 AM: The Gardens at Mill Fleur: A Private Garden Tour - Barbara and 'Tiff' Tiffany specialize in against-the-grain horticulture at their Mill Fleurs. Since it is not always apparent what rules they are breaking, they will take the time to personally guide people through these very special gardens. The owners are plant collectors heavy on shade plants. The property was densely shaded before trees were lost to hurricanes, local tornadoes, and deliberate thinning of ash forest in a burst of pro-activity against the ravages of the emerald ash borer. You will see many hosta, epimedium, and rhododendron. The tour will be a treat for those who love woodlands—both native and Asian, the polygonatum/disporum family, hosta, tricyrtis, astilbe, galanthus, hosta, and anything with a green or black flower -- the stranger the better. The Tiffanys also favor variegated shrubs and trees with interesting bark.
12:30 PM: John Courtney/Kind Earth Growers LLC: A Private Garden Tour John will personally greet us and lead us through his private garden. It is part of the larger acreage that includes Kind Earth Growers LLC. The person and the company is passionate about the preservation of native plants in the landscape. Together, they strive to produce high quality plants which provide biological functions for green infrastructure projects and that are the back bone for ecologically resilient native landscapes. Kind Earth Growers is helping to cultivate ecological awareness through local outreach and community engagement. It is a company with roots in the local environment, that has branched out to fill the need for seed-grown native plants in the conservation and restoration efforts nationwide.
3:00 Peace Tree Farm Join Lloyd and Candy Traven on a fun-filled tour of their extravagant organic growing operation, Peace Tree Farm. Their business is one of the Avant gardens in the country for innovative methods, marketing, and distribution. You'll come away wondering why the world hasn't caught up with them yet! At the end of the day, they invite us to join in a celebration with wine and beer after the Trunk Show in the parking lot.
4:30 PM Trunk Show and Raffle: A GardenComm Regional Meeting tradition. Join us in the parking lot of Peace Tree Farm, open your car trunks and load them with the samples, plants, and raffle winnings. We ask the registrants to bring some garden-related plants, tools, books, or accessories to add to the energy of this great goodbye at our first two-day in-person meeting in years. Also, at the end of this incredible series of great green spaces, bring along a bottle of wine or beer and snacks to share at our "Stone Soup" gathering. Hospitality brought to you by Peace Tree Farm!
All Afternoon: OHWOWCOW Ice Cream:/ As you drive around the neighborhood the day of this tour, stop and have them dig a scoop of home-made ice cream at OHWOWCOW. Try NOT to say, "Oh, WOW!"