Upcoming Events
Join us for Networking, Quality Education, Garden Tours & More!
Some of the greatest opportunities come from attending GardenComm events. It's a chance to meet and talk to other members, share ideas, learn how to improve your skills and business, and expand your industry network. Here's an up-to-date list of in-person and virtual events.
Free Pre-Conference Event
How is the green industry dealing with the rising temperatures related to our gardens and landscapes, trees and water? We've assembled an excellent line-up of experts to share how the industry is addressing rising temperatures through regenerative agriculture, trees and tree care, and smart water management.
Attendees can also preview the trade show exhibits, and attend a special panel discussion about how GardenComm members have made the most of their relationships and networking to grow their business.
Open to all green industry communication professionals and social media content creators. Click Register Now for your FREE access.
Plants & Gardens Happy Hour
The American Horticultural Society and GardenComm are partnering together to offer three virtual classes this fall. This magazine-style webinar will feature a public garden, two topics and a "What's making us smile" piece at the end. Attend for only $15, both members and non-members. Click LEARN MORE for the detail and to register on AHS.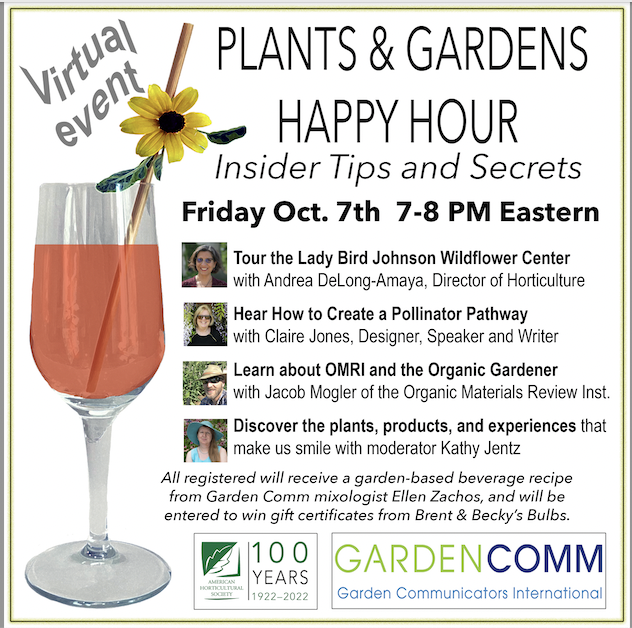 GardenComm Virtual 22
Register now for our biggest and best virtual annual event. With more educational sessions than ever before, chances to win prizes, pitch session to horticultural editors, access to recorded sessions and so much more. Attendee and exhibitor opportunities are open to members and non-members.